Precision Polishing & Finishing
Polishing achieves the most precise surfaces of all finishing methods. Parts move between horizontal rotating plates as an ultra-fine free abrasive causes micro inch cutting at a highly controlled rate. Polishing is typically preceded by another finishing process such as grinding, fine grinding / flat honing, or conventional flat lapping.
Capabilities
Lap Tech Industries has years of polishing experience and the equipment to handle a wide variety of parts.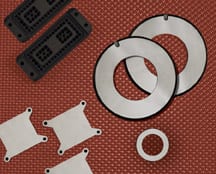 Scroll right to view table
Ideal for All Types of Parts
Polishing is ideal for all types of metals, ceramics, plastics, glass, carbon, hard-anodized surfaces, and other materials. Components of most sizes and shapes can be quickly and easily processed, including rings, seals, heat sinks, gears, bearings, rollers, slitter knives, cutting tools, silicon wafers, and others. These components are used in a variety of devices including precision pistons, automotive sensors, valves, gear pumps, rotary pumps, faucets, computers, telecommunication devices, optical equipment, and virtually any product with a sealing surface.
Features & Advantages
High Precision – Parts can be polished to extreme tolerances including flatness to within .025 microns and dimensions to within .05 micron.
Surface Finishes – Surface smoothness of 0.1 micro inches and better can be reached on a repeatable basis.
No Stress – The highly-controlled micro-inch cutting eliminates stress on the work parts, ensuring that even the tightest tolerances are consistently achieved.